Karren LaLonde Alenier is a poet drawn to Gertrude Stein's work through her interest in experimental writng and music. In 1982, Karren worked with Paul Bowles on several of the Stein poems associated with the opera libretto Gertrude Stein Invents A Jump Early On. The mother of a grown son, Karren Alenier lives with her husband Jim Rich in Bethesda, Maryland.
Karren grew up in a family actively interested in music. Her father was a drummer in a dance band. Her brother Jay plays ornamented jazz on the piano in the style of Art Tatem. Her sister Nancy, starting with a quarter-sized violin, was the darling of one of the concert masters of the National Symphony Orchestra. Youngest sister Lisa pursued dance--tap, ballet, jazz, and middle Eastern forms--both performing and teaching.
Karren's poetry characteristically is lyrical. The words selected play to the ear showing her interest in language, both in sound and meaning. Holding a bachelor of arts from the University of Maryland, College Park, Karren majored in French literature and language with a heavy minor in American and English literature. Although she began writing when she was in grammar school, serious work developed after she left college and started meeting with a circle of peers that included the now screenplay writer Deirdra Baldwin, the antique piano restoration expert Paul Revenko-Jones, and physicist Jim Beall.
In 1982 through a program sponsored by New York's School of Visual Arts, Karren spent three weeks studying with writer/composer Paul Bowles in Tangier, Morocco. Although she intended to work with him on her first novel, she and Bowles worked instead on her poetry about Gertrude Stein. Bowles was particularly helpful in working out the kinks in the rhythmic language poem "Leo on Seesaw." Although apologetic about his own poetry and admitting that Gertrude Stein was right in telling him not to write poetry, Bowles had a finely tuned ear for the kind of poetry in Karren's work-in-progress collection.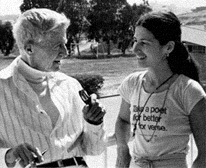 Karren with Paul Bowles in Tangier, c.1982.
In 1995, Karren traveled to Prague to work with James Ragan on what would become her fourth collection of poetry, later titled Looking For Divine Transportation. This collection, awarded the 2002 Towson University Prize for Literature, contains her poems about Gertrude Stein, her travels in Morocco, her eccentric family, and her own brand of Eden. In 1996, her third collection of poems Bumper Cars: Gertrude Said She Took Him For A Ride was published by Mica Press of Ft. Collins, Colorado. This chapbook contained a selection of her Stein poems and an early draft of Act I of Gertrude Stein Invents A Jump Early On. Karren delivered the first publication reading in the Motor City of Detroit in the Writer's Voice Series during one of the last poetry programs at the old YMCA before it was demolished.
Since the late Seventies, Karren has been developing the body of work that has become Gertrude Stein Invents A Jump Early On. The path of creation is not linear. It was not until February 3, 1996, on the anniversary of Gertrude Stein's birth that Karren and 12 other poets spoke the lines contained in this then one act tableau vivant verse play. Despite two feet of newly fallen snow, fifty people gathered at Chapters, Washington, DC's mid-town literary bookstore for this reading. The consensus was so far so good but where's the rest of it?
Based on an invitation to read the Stein work at Washington, DC's Grace Church in Georgetown, Karren set her sights on writing two more acts for the Georgetown program scheduled for April 8, 1997. Act II was written in one week in Florence, Italy. Karren was in Italy that fall to initiate the first Word Works Writers Retreat in the Tuscan countryside. Overly optimistic, she planned to write acts II and III in the week preceeding the retreat. Act III, set at the end of World War II was written in the winter of 1997 and required extensive research.
By the time Act III was written, Karren understood the play's potential for opera. She began contacting people in the arts to gather a list of new music composers. Specifically she was interested in a composer who had a penchant for jazz.
The first composer Karren worked with was Jeffrey Mumford who was recommended to her by the Dean of Music at Howard University. Jeffrey read the verse play and suggested that Karren listen to Schonberg's Pierot Lunaire and Stravinsky's Les Noces. In both of these compositions, recitative predominates. With short lines the norm in the original verse play, the musical approach indicated recitative. Certainly recitative dominates The Mother of Us All, the second opera Gertrude Stein and Virgil Thomson collaborated on and which was one of Karren's major source of inspiration. Not having any experience marketing such a project, Karren began calling opera organizations looking for a strategy to gain a commission for this project with a big opera company. After a year of meetings in which both composer and poet brain-stormed without success on how to kickstart financial support for the project, Jeffrey and Karren agreed it was best to move in separate directions.
Serendipitously, The Word Works awarded its 1998 Washington Prize to Nathalie Anderson, a poet whose libretto, based on a novel by Thomas Mann, was featured in a new music opera (The Black Swan with music by Thomas Whitman) that was premiering that fall under the direction of Sarah Caldwell. Starting with a referral from Nat Anderson, Karren called back and forth across the country getting a string of referrals that lead to William Banfield. Based on a simple strategy that Bill suggested in that short first phone call, Karren made several phone calls and got the attention of Nancy Rhodes at Encompass Music Theatre (now known as Encompass New Opera Theatre).
Active in the American literary community, Karren has developed and managed literary programs that promote poetry. She has been involved in organizations and programs at the Folger Shakespeare Library and the Library of Congress. Since her first book of poetry was published in 1975, she has had an active role in The Word Works. Her poetry and fiction has been published in hundreds of English language journals and literary publications. She was the recipient of the First Billee Murray Denny Award. She has been a fellow numerous times at the Virginia Center for the Creative Arts. Since 1978, she is listed in the Directory of American Poets and Writers.
---
Find me on Facebook and be my friend!
---
Online Press Kit for Karren LaLonde Alenier
New Work by Karren LaLonde Alenier:
Links to Alenier's work published on the Internet
(Read poetry, essays, interviews, and reviews published on the Internet.)
On a Bed of Gardenias: Jane & Paul Bowles
(Discover the exotic love story of Jane and Paul Bowles.)
The Steiny Road to Operadom
(Internet monthly column: Scene4.com, an International Magazine of Theatre, Film, and Media)
Back List by Karren LaLonde Alenier:
Karren LaLonde Alenier's Greatest Hits
(OH: Kattywompus Press, 2003)
Bumper Cars: Gertrude Said She Took Him for A Ride
(CO: Mica Press, 1996, out of print)
The Dancer's Muse
(IL: Ommation Press, 1981)
Gertrude Stein Invents a Jump Early On
(Libretto, 2005)
Interview with Paul Bowles
by Karren LaLonde Alenier, Francine Geraci, and Ken Pottiger, Tangier, 1984, published in Conversations With Paul Bowles, edited by Gena Dagel Caponi, University Press of Mississippi, Jackson, 1993. This interview was first published by Gargoyle magazine, spring, 1984.
Looking for Divine Transportation
(2002 winner of the Towson University Prize for Literature) Contains the Gertrude Stein poems used in Gertrude Invents A Jump Early On (DC: The Bunny & the Crocodile Press, 1999)
The Steiny Road to Operadom:
The Making of American Operas
(Essays, interviews, and reviews drawn from Alenier's work published in Scene4 Magazine developed into a comprehensive book that lays out the process of creating contemporary opera in America. This is the story of developing Gertrude Stein Invents a Jump Early On against the framework of the operas created by Gertrude Stein and Virgil Thomson. Told through the voice of the Steiny Road Poet, this is fun to read. More information at alenier.blogspot.com.)
Wandering on the Outside
(DC: Word Works, 1975, 1979 2nd ed)
Whose Woods These Are
editor
(DC: Word Works, 1983)
Winners: A Retrospective of the Washington Prize
editors: Karren Alenier, Hilary Tham, Miles David Moore
(DC: The Word Works, 1999)